Custom Stack Analysis, LLC., was originally established in Alliance, Ohio, in 1965 by Mr. Ernest Kolm. In the year 2000, the company was acquired by Mr. James K. Gray, who has over 18 years experience in the field of air emissions testing. In the year 2005 Custom Stack Analysis, LLC. acquired the source testing assets of Envisage Environmental, Inc. Custom Stack Analysis, LLC. has capabilities for performing Stack Testing, Industrial Hygiene, Analytical Services, Burner Combustion Efficiency, Radon Testing and Indoor Air Quality. The company has performed work not only for small companies, but also many fortune 500 companies. A professional staff can ensure that any of your environmental needs are met with quality and competitive pricing.

Custom Stack Analysis, LLC., has been providing air emissions testing for the past 38 years. In this time, they have performed testing for many prominent clients, such as Stericycle, Inc., Goodyear Tire & Rubber Co., and WCI Steel, along with many other prominent companies. The company has extensive knowledge in testing for medical waste incinerators, printing operations, steel foundries, asphalt facilities, power plants, petroleum refineries, chemical plants, brick manufacturers, lumber processing, hazardous waste incinerators, rubber manufacturing, roofing production, plastic manufacturers, and many other types of operations. The company has also been providing its services to engineering companies, government agencies, and control system designers. The company has experience providing services internationally including Canada, Puerto Rico, Jamaica, Dominican Republic, Caribbean Islands and South America. If you have an international project that requires our services be sure to give us a call. In 2009 Custom Stack Analysis, LLC. joined a service alliance with Zaff International/Hi-Tech Ltd. for providing services in Saudi Arabia and the Gulf Coast countries.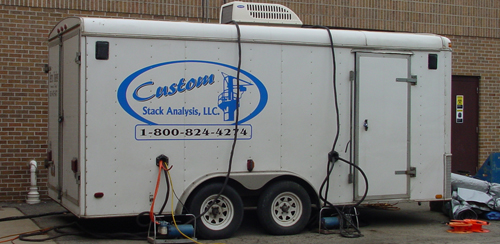 Custom Stack Analysis, LLC., has an excellent performance reputation in working with many prominent Clients in Ohio and throughout the United States. The company is noted for its ability to deliver quality services in accordance with project schedules, and to provide responsive assistance to Clients in emergency situations.

Custom Stack Analysis, LLC., has a company policy of providing high quality services to clients. The company also has a strong commitment for safety on the job for its work force, which includes USEPA's safety, health, and environmental management training program for field activities for all employees.

Custom Stack Analysis, LLC., is an active member in the Air & Waste Management Association, Source Evaluation Society, Ohio Chamber of Commerce, and Carolina Air Pollution Control Association.